Recycled Glass in the kiln
Glass bottles and containers, window glass, glass taken from lanterns and picture frames are great sources of "free" glass. With work, in and out of the kiln, some great items can be made with this glass. It is also possible to "rescue" accidentally broken items and make them into something new.
Glass Bottles
Wine bottles can be flattened in the kiln to make cheeseboards or spoon rests, for example. These have been acid etched.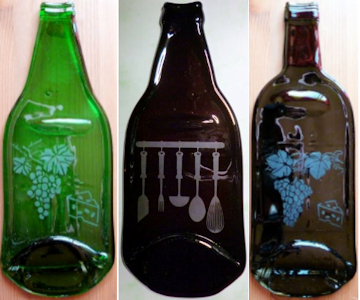 For clear glass, adding decals makes them more interesting.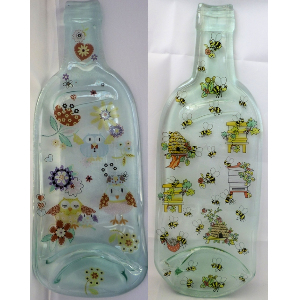 This flattened bottle has been made into an incense burner.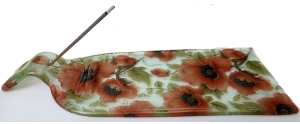 Using a tile saw, it is possible to cut the top and bottom from a wine bottle. If you cut a strip out of the middle piece, it is possible to produce a flat sheet of glass using the kiln. These trees are made from a glass bottle sheet and some recycled bottle stoppers.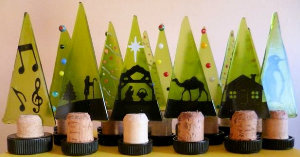 Glass Bottles (continued)
These garden hangings are made from the bottoms of bottles, fired in the kiln with decals or using a technique called "kiln carving".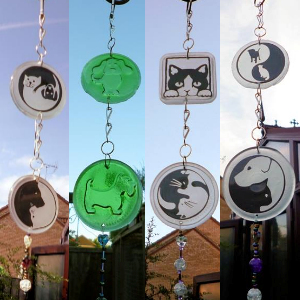 Glass from lanterns
I remove the glass from most of the lanterns I make. The sails on these boats are made from them. The mast is a small branch and the "boat" is made from driftwood.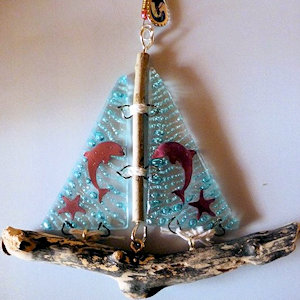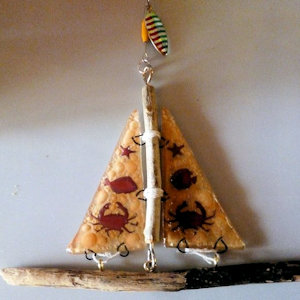 Accidents do happen!
On the way back to the car after a fete, while going over some cobbles, this piece decided to jump out of a box and crashed to the floor. We collected as many pieces as we could, including the one that landed under a car!

I cut the largest pieces to make these pendants.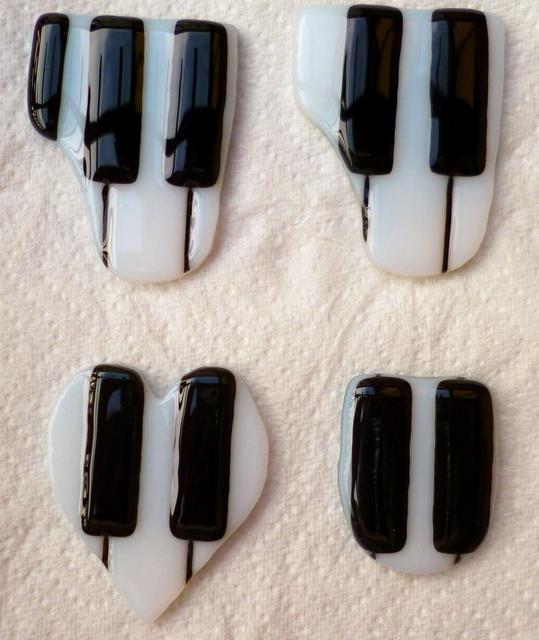 This piece was the only casualty in high winds at a fete.

It became this unique "Tune-a-fish" (Latin name: musica piscis"). The background music is from Schubert's "Trout Quintet".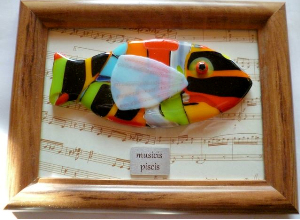 Recycled Glass without kiln use
Using a sandblaster or acid etching, it is possible to make a range of different things from items made from glass.
Glass bottle windchimes for the garden.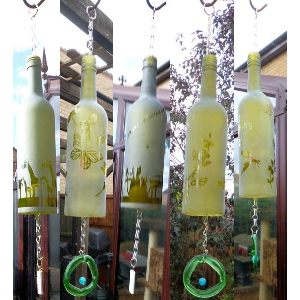 A wooden ball inside makes a pleasing sound in the wind.
A simple design makes a great use of mis-matched drinking glasses.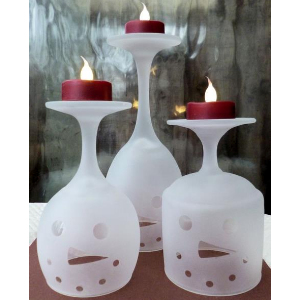 Sometimes, fun items are the way to go!